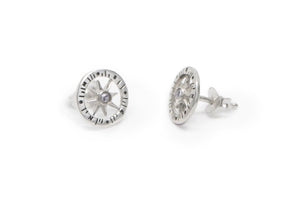 Designed in Australia and handcrafted in Indonesia the Compass stud earrings 10 x 10mm in size and are handcrafted from sterling silver with a Swarovski crystal centre.
10 x 10mm in size 

Sterling silver and Swarovski crystal 
These dainty stud earrings are part of our Guidance collection which features symbols of direction and dreams, some with moving elements to help bring a sense of calm and others with messages of protection and guidance. Your spirit guides are sending you messages all of the time. Look for the signs in your day, dreams, nature and listen to your intuition. All of the answers lay inside, you just need to breathe, connect with yourself and the universe and listen. Remember to ask for direction and guidance and use these symbols as a daily reminder.